An interesting look back at pin trading at the Expo 2010 Shanghai China … enjoy!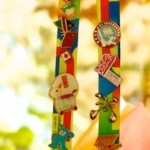 A powerful practice has swept across the expansive reaches of the Expo, consuming all who is exposed to it. Pin trading is the name, and all have fallen. What is being worshipped? Little pieces of metal, coming in a range of all shapes and sizes, beauty and grossness. Who are the followers? The armies of expo workers, from pavilion staff to volunteers, all shamelessly indulging in pin sharing debauchery.
Glory comes in the form of that shiny row of pins hung around your neck. They are medals of your negotiating prowess and investment choices. They represent sweat, blood and an unholy amount of saliva (pin-trading is thirsty business). Caught around the Expo site without any pins? Well, good luck receiving easy access into pavilions, making intra-pavilion friends, finding volunteers to do your job for you or getting anything you want done at the Expo.
Click here to enjoy the entire article.